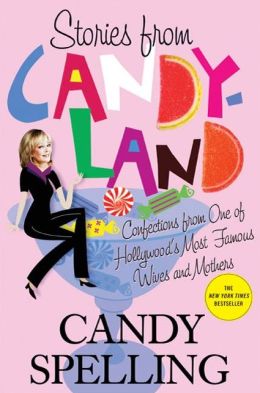 Overview from Barnes and Noble:
Carole Gene Marer spent her girlhood dreaming of meeting Rock Hudson, but when she finally had the chance—on her second date with her future husband, television mogul Aaron Spelling—she was so shy she hid all night in the powder room. How Candy morphed from that quiet girl into a seemingly-confident, stylish trophy wife, mistress of the largest house in Los Angeles (70,000 square feet when you count the attic) is at the heart of Stories from Candyland.
The life Candy created for her family—her husband and children Tori and Randy—was fabulous, over-the-top, and often magical. So what if California Christmases don't come with snow? Let's make some on the tennis court! How do we take a cross-country family vacation with a dad who doesn't fly? By private train car, of course (with an extra for the fifty-two pieces of luggage). The kids want to dress up for Halloween? No problem, why not call in Nolan Miller to design their costumes?
My thoughts:
This book has been on my shelf for a few years. As part of spring cleaning I am working through my shelves, reading and removing books. This book was a quick read and had some interesting parts, but I have to say it could have used some organization and a bit more editing. Candy had funny stories to share, but it felt like she circled back to the same ones and repeated herself quite a bit. I also think she has a different sense of reality than most of us. Her 17,000 square foot attic with everything neatly ordered and boxed and a hair salon is larger than most people's homes. Does she know many people live in a home that is ten percent of that size? Do you really need to save every Halloween costume your children ever wore?
I can't tell you why I decided I wanted this book to begin with. I have really enjoyed Tori Spelling's books and maybe I was curious about how her mother would recall events, but I requested it on Paperbackswap years ago and then just put it on the shelf. In the book she talks about how she is selling or planning to sell the family home, the Manor, but I didn't recall it ever being sold. I looked it up though and it was. I wonder what she did get rid of in her move.
I think it must be really hard to write about your own like and keep it in order and organized, because everything that has happened to you has made you who you are today. I hope that if she writes any more she has someone else go through and edit it for her more to keep it flowing.
Product Details
ISBN-13:

9781429921183

Publisher:

St. Martin's Press

Publication date:

3/31/2009

Sold by:

Macmillan

Format:

eBook

Edition description:

First Edition

Edition number:

1

Pages:

272
CANDY SPELLING,
whose husband Aaron produced America's favorite entertainment ("Dynasty", "Charlie's Angels", "The Love Boat", "Beverly Hills 90210"), is one of Hollywood's most famous wives and mothers. Her marriage was one of Tinseltown's happiest and most enduring, ending only with Aaron's death in 2006. Since then, Candy has begun writing, for TMZ.com and The Huffington Post, as well as becoming a contributing editor for Los Angeles Confidential Magazine. She is involved with a number of charitable and public service organizations, and is in the process of "downsizing" from Spelling Manor to a 17,000 square foot condominium in Century City.