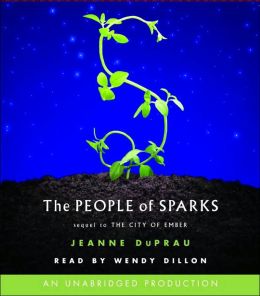 Overview from Barnes and Noble:
The People of Sparks picks up where The City of Ember leaves off. Lina and Doon have emerged from the underground city to the exciting new world above, and it isn't long before they are followed by the other inhabitants of Ember. The Emberites soon come across a town where they are welcomed, fed, and given places to sleep. But the town's resources are limited and it isn't long before resentment begins to grow between the two groups. When anonymous acts of vandalism push them toward violence, it's up to Lina and Doon to discover who's behind the vandalism and why, before it's too late.
My thoughts:
After a little break, my children were curious to find out what happened once Lina and Doon made it out of Ember following the builder's directions. Where they able to get the rest of the town to follow them? Where were they going to go and what were they going to find outside of the cave they had lived in for over two hundred years?
The note that the children sent down was found and many of the townspeople made it out alive. After walking for three days they found the city of Sparks. The townspeople have been working for years to get everything running smoothly and to have enough food and supplies for their inhabitants, so they are wary about more than doubling their population, but at the same time they are not near any other settlements to send these weak, pale people on to. The three city leaders try to work out a plan together to help these new people, people many of them cannot believe actually came from living in a cave, and teaching them skills so that they can one day be independent and start their own settlement. In Ember the people had electricity and plumbing, while Sparks has no electricity and pumps and wells to provide water. They cook with fire while the Emberites are terrified of fire as it had the potential to kill them all back in their city.
Some relationships go well, others get hostile pretty quickly. There is resentment from both sides about having to share food that the one group didn't work for and the other group does not feel they are getting enough of as they are always hungry. The Emberites have to deal with sunburn and heat for the first time ever. Some of the acts of vandalism are not what they seem.
When things get to a breaking point it is again Lina and Doon who step in to show children and grow ups alike how to move forward.
Product Details
ISBN-13:

9780739331699

Publisher:

Random House Audio Publishing Group

Publication date:

5/9/2006

Series:

Books of Ember Series , #2

Format:

CD

Edition description:

Unabridged, 6 CDs, 7 hrs. 55 min.

Age range:

9 - 12 Years