Overview from Barnes and Noble:
A few times in your life, someone will tell you something so right, so deeply true that it changes you forever. That is what Anna Quindlen, author of the timeless bestseller
A Short Guide to a Happy Life
, does here.
In Being Perfect, she shares wisdom that, perhaps without knowing it, you have longed to hear: about "the perfection trap," the price you pay when you become ensnared in it, and the key to setting yourself free. Quindlen believes that when your success looks good to the world but doesn't feel good in your heart, it isn't success at all.
She asks you to set aside your friends' advice, what your family and co-workers demand, and what society expects, and look at the choices you make every day. When you ask yourself why you are making them, Quindlen encourages you to give this answer: For me. "Because they are what I want, or wish for. Because they reflect who and what I am. . . . That way lies dancing to the melodies spun out by your own heart."
At the core of this beautiful book lies the secret of authentic success, the inspiration to embrace your own uniqueness and live the life that is undeniably your own, rich in fulfillment and meaning.
My thoughts:
This is the perfect, short little gem to remind you to do things for the right reason and to stop worrying so much about what other people are thinking. Being perfect is an illusion and can form an empty shell that you live in by do not fully live while trying to maintain. It is hard to take the time to truly be yourself and not the person you think you are supposed to be for others, but if you can avoid the trap you can find your own happiness and fulfillment in what you really want and believe. Short, sweet, to the point and easily read in a sitting.
Product Details
ISBN-13:

9780375505492

Publisher:

Random House Publishing Group

Publication date:

4/26/2005

Edition number:

1
Pages: 64
Meet the Author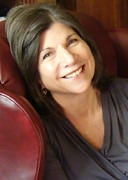 ANNA QUINDLEN is the author of four novels–Blessings, Black and Blue, One True Thing, Object Lessons–and five nonfiction books: Loud and Clear, A Short Guide to a Happy Life, Living Out Loud, Thinking Out Loud, and How Reading Changed My Life. She has also written two children's books: The Tree That Came to Stay and Happily Ever After. Her New York Times column "Public and Private" won the Pulitzer Prize in 1992. Her column now appears every other week in Newsweek.