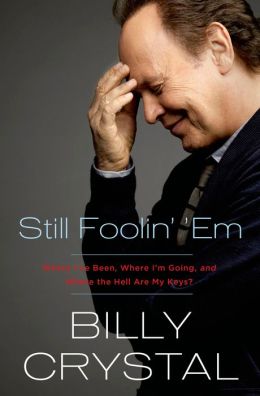 Overview from Barnes and Noble:
Hilarious and heartfelt observations on aging from one of America's favorite comedians as he turns 65, and a look back at a remarkable career
Billy Crystal is turning 65, and he's not happy about it. With his trademark wit and heart, he outlines the absurdities and challenges that come with growing old, from insomnia to memory loss to leaving dinners with half your meal on your shirt. In humorous chapters like "Buying the Plot" and "Nodding Off," Crystal not only catalogues his physical gripes, but offers a road map to his 77 million fellow baby boomers who are arriving at this milestone age with him. He also looks back at the most powerful and memorable moments of his long and storied life, from entertaining his relatives as a kid in Long Beach, Long Island, his years doing stand-up in the Village, up through his legendary stint at Saturday Night Live, When Harry Met Sally, and his long run as host of the Academy Awards. Readers get a front-row seat to his one-day career with the New York Yankees (he was the first player to ever "test positive for Maalox"), his love affair with Sophia Loren, and his enduring friendships with several of his idols, including Mickey Mantle and Muhammad Ali. He lends a light touch to more serious topics like religion ("the aging friends I know have turned to the Holy Trinity: Advil, bourbon, and Prozac"), grandparenting, and, of course, dentistry. As wise and poignant as they are funny, Crystal's reflections are an unforgettable look at an extraordinary life well lived.
My thoughts:
Billy Crystal performs this audio book, some of which takes place in front of an audience and some of which was taped in a studio. It includes his trademark humor and addresses what can be tough topics by poking fun at them. I recall a few years ago when I read
700 Sundays
and I could hear his voice in my head as I read the pages, this was even better because I didn't have to imagine it myself.
Crystal looks back on how his career trajectory went, from starting doing small acts in front of live audiences for very little money and being a stay at home dad to his daughter to his first television spots and then movies. He talks about regrets about films he took and parts he didn't get, all the while making it funny and relateable. He talks a lot about Saturday Night Live as well as a TV series I was unfamiliar with where he played a gay man. And through it all is his love of baseball!
He gives a background story to his
700 Sundays
book and stage show and tells all about his house in California. When he and Janice moved there they bought the house they still live in. The next door neighbors were sisters who grew up there with parents who believed in séances and such and the sisters said the house was so happy to have a new family. All sorts of celebrities had been in the home prior to them being there and they would find, from time to time, things buried in the yard and even a secret room that was walled over that had significance to them.
After listening to this book I decided to watch
When Harry Met Sally
again when it was on TV the other night and I looked for scenes like the one when Sally and Harry are talking in a weird voice that was totally improvised. It seems so natural when it comes along in the film and I tried to imagine how scary that might have been for Meg Ryan to be filming a totally unrehearsed scene in front of the cameras. She pulled it off!
I like how Crystal seems like an everyday guy who has had the good luck to find success in entertaining, but how there really was a lot of hard work and uncertainty for him on his way to where he is today. It didn't just happen for him, he really had to work at it and fail at times to get where he is today. It is easy to think that celebrities have had it so easy, but for most people, to be successful involves a lot of effort and some false starts and failures along the way. To quote his dialogue from the
Princess Bride
, "Have fun storming the castle!"
Product Details
ISBN-13:

9780805098204

Publisher:

Holt, Henry & Company, Inc.

Publication date:

9/10/2013

Pages:

288
Meet the Author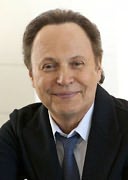 Billy Crystal has starred in many hit films, among them When Harry Met Sally, City Slickers, The Princess Bride, and Analyze This. He is the author of the Tony award-winning play 700 Sundays, about his relationship with his late father, which was later adapted into a book, and the children's book, I Already Know I Love You. Crystal was a cast member of Saturday Night Live, is a six time Emmy winner, and recipient of the Mark Twain Prize for American Humor. He has hosted the Academy Awards nine times. He lives in Los Angeles with his wife, Janice.