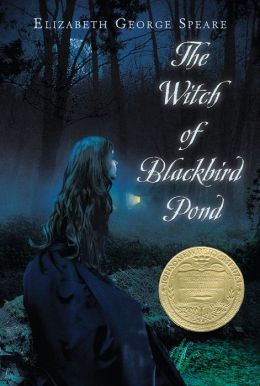 Overview from Barnes and Noble:
Kit Tyler is marked by suspicion and disapproval from the moment she arrives on the unfamiliar shores of colonial Connecticut in 1687. Alone and desperate, she has been forced to leave her beloved home on the island of Barbados and join a family she has never met. Torn between her quest for belonging and her desire to be true to herself, Kit struggles to survive in a hostile place. Just when it seems she must give up, she finds a kindred spirit. But Kit's friendship with Hannah Tupper, believed a witch by the colonists, proves more taboo than Kit could have imagined and ultimately forces her to choose between her heart and her duty.
In 1687 in Connecticut, Kit Tyler, feeling out of place in the Puritan household of her aunt, befriends an old woman considered a witch by the community and suddenly finds herself standing trial for witchcraft.

My thoughts:
This has been one of my favorite books since I read it for the first time in fourth grade. I take something different from it each time I read it. This time through I was struck by the rigidness of the rules the Puritans lived by. Recently I have read a number of books set in Amish communities and noticed their adherence to rules for interaction and the amount of power the church leaders hold over their whole community. In the past month I also watched all five seasons of the HBO series Big Love. The sect of Mormons the family belonged to that believed in polygamy had their rule structure as the did the greater Mormon church who denounced them and went out of their way to make life difficult for those living in plural marriage. What struck me about these three different books and settings was how strictly held the religious beliefs were and how much people were expected to blindly follow the rules set in place for them. How free can a society be if they have no control over their own beliefs and dreams, but have to stay inside of prescribed boxes and obey guidelines put upon them?

Kit grew up in Barbados with her grandfather, after the death of her parents. She learned how to read by reading fiction and works of literature with him, learned to swim in the sparkling water and took for granted that there would always be someone there to take care of her and spare her from chores and drudgery. Upon her grandfather's death she boards a ship to go to Connecticut to her mother's sister. A woman she has only come to know through letters, but never actually met. Kit is out of place in New England, with her brightly colored dresses and carefree attitude. She shocks people with her ability to swim and feels so alone and out of place until she meets a widow who lives alone. Hannah Tupper is a Quaker that the townspeople distrust and many talk about her being a witch. But Kit sees her for who she is, a lonely woman whose husband has passed away and becomes her friend.

Kit also befriends a little girl she met on the ship that brought her to the small town. Prudence rarely gets enough to eat and lacks affectation and education, as her mother believes that she is not smart enough to learn. Kit takes it upon herself to teach the girl and introduces her to Hannah as well.

Being different marks Kit and her lack of understanding of the rules governing interactions and chores leads to her falling into grave danger. How many times do we look at those who are different and wonder why they can't just adapt or fit in? How many people gossip or think ill of neighbors or new classmates who don't seem to understand how to go about being a part of a group? If we could find a way to meet without the hurt feelings or assumptions so many moments of anger could be averted. What about if we took this to a global level? Just because a group of people does things differently does not mean that they are doing it wrong. If we took the time to really listen and the time to rally try to understand things could go so much more smoothly for everyone.
Product Details
ISBN-13:

9780547550299

Publisher:

Houghton Mifflin Harcourt

Publication date:

1/10/2011
Pages: 249
Meet the Author
"I was born in Melrose, Massachusetts, on November 21, 1908. I have lived all my life in New England, and though I love to travel I can't imagine ever calling any other place on earth home. Since I can't remember a time when I didn't intend to write, it is hard to explain why I took so long getting around to it in earnest. But the years seemed to go by very quickly. In 1936 I married Alden Speare and came to Connecticut. Not till both children were in junior high did I find time at last to sit down quietly with a pencil and paper. I turned naturally to the things which had filled my days and thoughts and began to write magazine articles about family living. Then one day I stumbled on a true story from New England history with a character who seemed to me an ideal heroine. Though I had my first historical novel almost by accident it soon proved to be an absorbing hobby." Elizabeth George Speare (1908-1994) won the 1959 Newbery Medal for THE WITCH OF BLACKBIRD POND, and the 1962 Newbery Medal for THE BRONZE BOW. She also received a Newbery Honor Award in 1983, and in 1989 she was presented with the Laura Ingalls Wilder Award for her substantial and enduring contribution to children's literature.