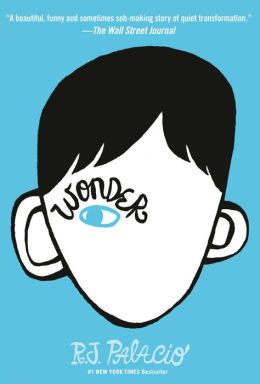 Overview from Barnes and Noble:
I won't describe what I look like. Whatever you're thinking, it's probably worse.
August Pullman was born with a facial deformity that, up until now, has prevented him from going to a mainstream school. Starting 5th grade at Beecher Prep, he wants nothing more than to be treated as an ordinary kid—but his new classmates can't get past Auggie's extraordinary face. WONDER, now a #1 New York Times bestseller and included on the Texas Bluebonnet Award master list, begins from Auggie's point of view, but soon switches to include his classmates, his sister, her boyfriend, and others. These perspectives converge in a portrait of one community's struggle with empathy, compassion, and acceptance.
"Wonder is the best kids' book of the year," said Emily Bazelon, senior editor at Slate.com and author of Sticks and Stones: Defeating the Culture of Bullying and Rediscovering the Power of Character and Empathy. In a world where bullying among young people is an epidemic, this is a refreshing new narrative full of heart and hope. R.J. Palacio has called her debut novel "a meditation on kindness" —indeed, every reader will come away with a greater appreciation for the simple courage of friendship. Auggie is a hero to root for, a diamond in the rough who proves that you can't blend in when you were born to stand out.
Join the conversation: #thewonderofwonder
Winner of the 2013 E. B. White Read-Aloud Award for Middle Reader
My thoughts: I have wanted to read this book for quite some time. Each time I have been in a classroom and noticed this book it reminded me to look for it to read. I checked it out of our local library last week and read it in just a few days. People can be so mean to one another, sometimes knowingly, but other times by accident. August Pullman was born with a disorder that caused his head and face to be made differently than everyone else. He has undergone many surgeries to correct things like a cleft palate, but he is still noticeably different. When people see him for the first time on the street or out in public they are surprised and this reaction is hard to hide. August pretends he doesn't notice, but he does. Most people aren't trying to be mean, he just looks so different that they can't help being surprised. Most try to hide it right away, but he knows, and as much as he tries to not let it bother him, it does.
He has been home schooled due to his frequent surgeries, but for fifth grade his parents are suggesting strongly that he attend school for the first time. He is scared of this change, having to deal with all the staring and possible teasing that he has endured at his visits to the playground and out in public, but he ends up taking the step. Seeing his strength when things are changing and his classmates are unsure of what to think of him is powerful and heartening. Academically and intellectually August is just like everyone else, his only difference is how he looks, but some people can't get around that. There are parents who thinks he has special needs academically because he looks different, but he is one of the top students.
I think people with differences used to be kept out of the public eye a lot more than they are now, so it is now much more common to run into someone who has physical or mental differences. If children are exposed to these differences from a young age, they are much less likely to make a big deal out of it or even think that meeting people with differences are unusual. I think schools are making strides in including students of all ranges in homeroom classes. Each of my children has been in class with students who have a noticable difference(either physically or mentally), but since they have always been there and have always been a part of the group, they don't even seem to notice. They accept whatever limitations the person might have, but still count them as one of their friends and classmates. We need this, there are too many people who are still intolerant of differences. Like one of the characters in the book says, once you get to really know someone you stop noticing the differences and they just become the person, not a person with differences.
Product Details
ISBN-13:

9780375869020

Publisher:

Random House Children's Books

Publication date:

2/14/2012

Pages:

320
Meet the Author
R. J. PALACIO lives in NYC with her husband, two sons, and two dogs. For more than twenty years, she was an art director and graphic designer, designing book jackets for other people while waiting for the perfect time in her life to start writing her own novel. But one day several years ago, a chance encounter with an extraordinary child in front of an ice cream store made R. J. realize that the perfect time to write that novel had finally come. Wonder is her first novel. She did not design the cover, but she sure does love it.