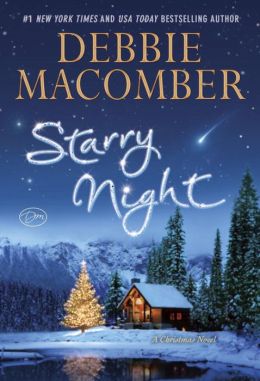 Overview from Barnes and Noble:
'Tis the season for romance, second chances, and Christmas cheer with this new novel from #1 New York Times bestselling author Debbie Macomber.

Carrie Slayton, a big-city society-page columnist, longs to write more serious news stories. So her editor hands her a challenge: She can cover any topic she wants, but only if she first scores the paper an interview with Finn Dalton, the notoriously reclusive author.

Living in the remote Alaskan wilderness, Finn has written a mega bestselling memoir about surviving in the wild. But he stubbornly declines to speak to anyone in the press, and no one even knows exactly where he lives.

Digging deep into Finn's past, Carrie develops a theory on his whereabouts. It is the holidays, but her career is at stake, so she forsakes her family celebrations and flies out to snowy Alaska. When she finally finds Finn, she discovers a man both more charismatic and more stubborn than she even expected. And soon she is torn between pursuing the story of a lifetime and following her heart.

Filled with all the comforts and joys of Christmastime, Starry Night is a delightful novel of finding happiness in the most surprising places.
My thoughts:
I love how Macomber releases a short Christmas book each year. I don't always have a chance to read it before the holidays, but it something I look forward to catching up on every year. I like that in this one a character from one of her earlier series shows up for a cameo appearance. It is as if he has been living his life and going along off the page in the years since he appeared in a book!
Carrie is thankful that she was able to find a job at a newspaper, but after four years of work on the society pages she is ready to tackle something different. She attacks the challenge given by her editor with zeal and manages to find the reclusive author. Being stranded together in a small cabin in Alaska during a storm gives them a chance to get to know each other, grudgingly on Finn's behalf. They share meals and play some games and really take the chance to see each other. Finn does not want her to write the assigned article as he enjoys his privacy. Carrie writes one, but decides not to publish it. They share a kiss before she gets on a plane to leave and from there they start to get to know each other long distance. Telephone calls and texts allow them to get to know each other, but neither is sure if they can make this anything more. Finn loves his home in Alaska and can't imagine going anywhere else and Carrie wants to continue to work.
Every relationship has it's own hurtles, some that are monumental and some that are not, and sometimes what makes them so hard is one or both parties unwillingness to compromise. These two have some insecurities and geographical differences to navigate, plus baggage from the past, before they can find their way towards any kind of happily ever after!
Product Details
ISBN-13:

9780345528896

Publisher:

Random House Publishing Group

Publication date:

10/8/2013

Pages:

256