Overview from Barnes and Noble:
When the past and future start mixing with the present, Sabrina and Daphne have their first case to tackle solo—with a little help from the troublemaker Puck. The girls suspect that a rash of magical thefts may be at the root of the problem, but with Mayor Heart's outrageous taxes to pay and Mr. Canis's continuing transformation into the Big Bad Wolf, the Grimms have a lot to worry about and not a lot of time to waste. Can Sabrina and Daphne solve the crime and change the future for the better?
My thoughts:
I think it is always fun when time travel gets involved, and there are always so many questions about ripple effects and what happens if you change something in the present to course of events in the future. Holes in time are opening all over Ferryport Landing. Strange people from the past or the future show up on the streets and Sabrina and Daphne are taken into the future where they meet themselves and find a very grim reality in their town. Some of what they see is funny, you won't believe who Sabrina is married too, most of if is upsetting. The Scarlett Hand has taken over and the Grimm family are outlaws. Their parents are still under the sleeping spell, some friends are now enemies and some important people are dead. The girls are determined, with the help of Prince Charming, to change the course of events to avoid the future they have seen. In keeping secrets from a friend they cause a rift in a friendship and Mayor Heart and Sheriff Nottingham continue to force all the non-Everafters from the town. Can their friends and their town be saved?
Product Details
ISBN-13:

9780810972636

Publisher:

Abrams, Harry N., Inc.

Publication date:

7/23/2008

Series:

Sisters Grimm Series , #5

Pages:

304
Meet the Author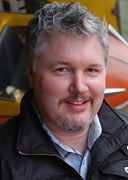 Michael Buckley's previous books include a New York Times bestseller, a Kirkus Reviews Best Fantasy Book, and two Oppenheim Toy Portfolio Platinum Award winners. He has written and developed television shows for several networks. He lives with his wife, Alison, and their son, Finn, in Brooklyn, New York. Peter Ferguson is a comic book and editorial artist living in Argentina.