Overview from Barnes and Noble:
Andie Miller is ready to move on with her life. She wants to marry her fiancé and leave behind everything in her past, especially her ex-husband, North Archer. But when Andie tries to gain closure with him, North asks one last favor: Since the death of a distant cousin, he's become the guardian of two orphans who have already driven away three nannies. North needs someone to take care of the situation—and he knows Andie can handle anything.
Carter and Alice aren't your average delinquents, and the creepy old house where they live is being run by the worst housekeeper since Mrs. Danvers. Complicating matters is Andie's fiancé's suspicion that this is all a plan by North to get Andie back. He may be right because Andie's dreams have been haunted by North since she arrived at the old house, and that's not the only haunting. As Andie copes with the ghosts of her past and present, she begins to see that what she wants is the same thing that everyone in the house wants—a second chance—and that maybe this time she'll get it.
My thoughts:
I haven't read a Jennifer Crusie novel in a few years and I forgot how much fun they are! This one was a bit different than the others that I remember, but different in a good way. Usually there is a dead body and a lovable dog, this time the dead bodies are ghosts who live in the creepy house that Andie is living in while watching her ex-husbands wards. Andie is practical and no-nonsense, she doesn't believe in her mothers Tarot readings or premonitions. After one year of marriage to North, who she knew a very short amount of time prior to marrying, Andie left because she felt she was being ignored. She has traveled around for ten years and is ready to marry a writer, but wants to address her ex one last time. One last time ends up with her agreeing to do a favor and traveling to the south part of Ohio to watch two orphans.
The house is creepy, the kids are quiet and weird and unwilling to try new things, the housekeeper is rude and drinks, and the house is falling apart. It was brought over from England years ago and is said to be haunted, but Andie doesn't believe in ghosts. That is until she sees them, hears them and interacts with them, then she is willing to let ask for help. During her time in the house she comes to love the children and see them as her own.
This book really got to me in the ways in which the past, both our own and the collective past, affects our future and what we do with it. How Andie is running away instead of facing a difficult conversation. How the two children are stuck as prisoners of a past they were not even a part of and feel helpless to ask for help. How much of what we do today is because of beliefs and assumptions we have about the past that may or may not be true? What does it mean to have a soul and is it possible to live a meaningful life without one? Deep thoughts from a fun book I read on the beach during our family vacation.
Product Details
ISBN-13:

9780312584160

Publisher:

St. Martin's Press

Publication date:

4/26/2011

Pages:

352
Meet the Author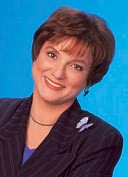 Jennifer Crusie is the New York Times, Publishers Weekly, and USA Today bestselling author of Tell Me Lies, Crazy for You, Welcome to Temptation, Faking It, Fast Women, and Bet Me.
Biography
Don't expect to see Fabio's flowing mane on the cover of any of Jennifer Crusie's romance novels. She completely eschews the tradition of overwrought melodrama and heaving bosoms to toss a comic gauntlet into the romantic arena. Her fun, funny, and frisky books are a refreshing breeze in a genre that could easily grow stale.
Former schoolteacher Jennifer Smith got her Master's degree in Professional Writing and Women's Literature at Wright State University. She wrote her thesis on women's roles in mystery fiction before trying her hand at penning romance novels using her grandmother's family name Crusie. Despite her impressive credentials, she dismisses her debut novel Sizzle as "lousy" even as her fans clamber to gets their hands on this long out-of-print pulp romance. "That damn book is following me around the way early porn films follow actresses," so says Crusie one her web site of Sizzle.