Overview from Barnes and Noble:
Baring It All
Generations of werewolves have been secretly residing in a secluded valley a stone's throw from Grundy, Alaska. So when a snooping Outsider comes to Grundy to investigate rumors of lycanthropic shenanigans in the area, the valley's pack alpha, Maggie Graham, resolves to chase him away, even if doing so takes a quick bite on the butt. What a pity that researcher Nick Thatcher turns out to be so drool-worthy, and that his kisses make Maggie want to sit up and beg. Maggie just can't seem to convince Nick to leave . . . and even worse, she can't convince herself to stay away from him. Cross-species dating is problem enough for a harried alpha female, but on top of that, a rival group of werewolves is trying to move into the valley. With interpack war threatening, Maggie can't afford to be distracted. Combining romance and a career can be tough for anyone; for a werewolf in love with a human, it may be disastrous. . . .
My thoughts:
I read this book last week on vacation. I started it before we left but didn't really get into it until I was on the beach. I enjoyed
How to Flirt with a Naked Werewolf
last year and was really looking forward to reading this one too. I actually got it as a gift from my Secret Santa's at Christmas time but as with so many books, I didn't manage to pick it up until now.
Maggie is the alpha werewolf since her brother decided to step back from the pack, but not all the area werewolves are happy about having a female as alpha. Many want her to marry so she can carry on the genes for the pack as so many members have married outside the pack that they are having population problems with dead liners, babies that are no longer able to phase into werewolves. But the problem is, Maggie is attracted to Nick who is a researcher who poses a danger to their whole way of life and her uncle really wants her to marry the alpha from a neighboring pack who is attractive, but not overly bright.
Adding to this there is someone causing problems for the pack and threatening Maggie. Vandalism and more have been happening in the village and Maggie is trying to work out who is threatening her pack while fighting her feelings for Nick.
This was a fun read and I am glad that again there was an added mystery along with the romance and the werewolves to keep the story fun and interesting.
Product Details
ISBN-13:

9781439195871

Publisher:

Pocket Books

Publication date:

3/29/2011

Format:

Mass Market Paperback

Pages:

352
Meet the Author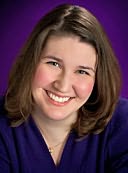 Molly Harper is the author of eight novels, including The Care and Feeding of Stray Vampires and Nice Girls Don't Bite Their Neighbors. She worked for six years as a reporter and humor columnist for The Paducah Sun, covering courts, school board meetings, quilt shows, and once, the arrest of a Florida man who faked his suicide by shark attack and spent the next few months tossing pies at a local pizzeria. Molly lives in western Kentucky with her family.