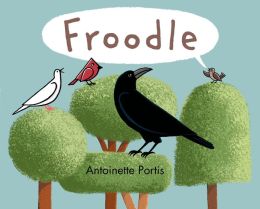 Overview from Barnes and Noble:
In a normal neighborhood, on a typical day, the birds chirp, the dogs bark and the cats meow. When Little Brown Bird decides she doesn't want to sing the same old song, out comes a new tune that shakes up the neighborhood and changes things forever in this funny, innovative book that kids will love to read out loud.
My thoughts:
Recent library find that has been requested to be read repeatedly at our house. All the birds in the neighborhood start out saying the same thing over and over again until the Little Brown Bird says something different. The sounds the birds make as they are freed from their rigid rules are hilarious and inventive. As soon a we reach the end my son asks to read it again and says the words along with the birds.
Product Details
ISBN-13:

9781596439221

Publisher:

Roaring Brook Press

Publication date:

5/6/2014

Pages:

32
Meet the Author
Antoinette Portis is the author of many inventive books, including Not a Box, a New York Times Best Illustrated Book and a Geisel Honor Book. She is the recipient of a Sendak Fellowship. Froodle is her first book for Roaring Brook Press. Ms. Portis lives in southern California.