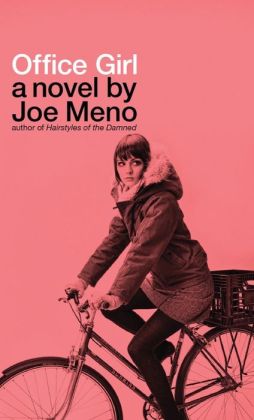 "In Joe Meno's new novel, set in the last year of the 20th century, art school dropout Odile Neff and amateur sound artist Jack Blevins work deadening office jobs; gush about indie rock, French film, and obscure comic book artists; and gradually start a relationship that doubles as an art movement. They are, in other words, the 20-something doyens of pop culture and their tale of promiscuous roommates, on-again/off-again exes, and awkward sex is punctuated on the page by cute little doodles, black and white photographs (of, say, a topless woman in a Stormtrooper mask), and monologues that could easily pass for Belle & Sebastian lyrics ("It doesn't pay to be a dreamer because all they really want you to do is answer the phone")."
--
Publishers Weekly
(Pick of the Week)
My thoughts:
I listened to this, so I missed out on the black and white photographs described by Publisher's Weekly. I wasn't sold on this one. Odile is an art student who never finished her degree because of a professor she didn't like, so she is only a few classes shy of finishing. Why in the world would you let the opinion of one person stop you from reaching the finish line? I kind of wanted to yell at her. So she answers phones, think is about moving from Chicago to New York and starts an art movement where she writes with silver marker on signs and such and stages events like leaving a whole bunch of silver balloons on an elevator. Jack is a bit lost after his wife leaves him, so he stops going to work until he realizes that he needs rent (she always took care of that for him) so he starts to work with Odile. Neither of them like their job, but they don't give much thought to what else they could be doing. They are drawn to each other and become friends plus a bit more. It reminded me of someone trying to be intellectual while romanticizing being creative. They both were quite creative, but felt that no one else was going to understand their art, while at the same time being very critical of the art of others but complaining about being criticized for their own. It was a whirlwind kind of a circle with them, while never really going anywhere.
Product Details
ISBN-13:

9781617750762

Publisher:

Akashic Books

Publication date:

7/3/2012

Pages:

224
Meet the Author

Joe Meno is a fiction writer and playwright who lives in Chicago. He is a winner of the Nelson Algren Literary Award, a Pushcart Prize, the Great Lakes Book Award, and was a finalist for the Story Prize. He is the author of five novels and two short story collections including The Great Perhaps, The Boy Detective Fails, Demons in the Spring, and Hairstyles of the Damned. His short fiction has been published in One Story, McSweeney's, Swink, LIT, TriQuarterly, Other Voices, Gulf Coast, and broadcast on NPR. His nonfiction has appeared in the New York Times and Chicago Magazine. His stage plays have been produced in Chicago, Los Angeles, Washington, D.C., and Charville, France. He is an associate professor in the Fiction Writing Department at Columbia College Chicago.