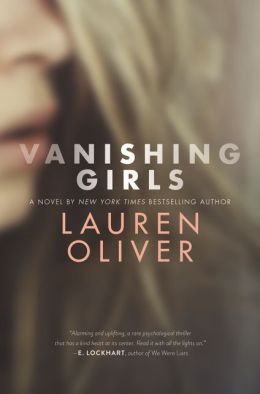 Overview from Barnes and Noble:
Dara and Nick used to be inseparable, but that was before—before Dara kissed Parker, before Nick lost him as her best friend, before the accident that left Dara's beautiful face scarred. Now the two sisters, who used to be so close, aren't speaking. In an instant, Nick lost everything and is determined to use the summer to get it all back.
But Dara has other plans. When she vanishes on her birthday, Nick thinks Dara is just playing around. But another girl has vanished, too—nine-year-old Madeline Snow—and as Nick pursues her sister, she becomes increasingly convinced that the two disappearances may be linked.
In this edgy and compelling novel, New York Times bestselling author Lauren Oliver creates a world of intrigue, loss, and suspicion as two sisters search to find themselves, and each other.
My thoughts:
This fast paced read brought a number of surprises along with it. Dara and Nick were in a horrible accident one rainy night and Dara wasn't wearing her seat belt. Since the accident the two of them, once the best of friends and sisters who were only a year apart, have stopped speaking and aren't even living in the same house. When their parents decide that Nick should live with her mother for the summer, Nick decides it is time to do something to mend the past and to fill in the gaps in her memory from the accident, but Dara makes it very hard, always disappearing down the trellis and leaving before they can talk.
Then there is Parker, he was once Nick's best friend and they did things as a trio, but the night that Dara kissed him changed the trajectory of both of their lives, driving a wedge between them and taking away both of Nick's best friends.
While working at an amusement park together and watching her mother's fascination with the disappearance of a nine year old girl, Nick makes up her mind about the future and goes on a hunt to find her sister and save her. She unravels the clues Dara has left for her and starts to piece together the missing pieces from the accident. There are twists and turns and some unexpected findings along the way.
Product Details
ISBN-13:

9780062224101

Publisher:

HarperCollins Publishers

Publication date:

3/3/2015