Overview from Barnes and Noble:
Dearest Reader,
By now you might be wondering: Jenny McCarthy has more to say?! After six New York Times bestsellers, I've talked about pregnancy, autism, and motherhood. I hope you've enjoyed it. I hope it's made you laugh and cry and all those things that bestselling books about such topics are supposed to do.
But this book is about something entirely new—a subject that has pervaded my life since birth and confused the f*ck out of me for about the same time: Catholicism. As I enter into adulthood (play along, thanks), I think I may have finally figured out this faith thing. And what it means to me. But first, I had to reflect on my life. And my memoir, Bad Habits, is the fruit (not the Eve's apple kind) of that labor.
Bad Habits
is my journey from aspiring nun at an all-girls Catholic school in the suburbs of Chicago, to
Playmate of the Year
, to autism awareness activist, to bestselling author, to host of my very own talk show... and all the Hail Marys in between. After reading this book, you'll know why you should wear underwear to church, why Jesus was my Justin Bieber, and why I had to give up giving shit up for Lent.
Bad Habits is also my personal examination of faith and how it turns out to surprise us at the most unexpected moments. It is a book of confessions about confession! I've tried to be brutally honest though it might read as more like embarrassingly entertaining, and I'm always outlandish so that's in here too; but truly, this book is sinfully hilarious (My publisher made me say that).
Bless you my children,
Jenny
My thoughts:
I love reading memoirs. It all started in fourth grade when I discovered the shelf of biographies and autobiographies. Up to that point I think I had mostly been checking out fiction and to find out that there were more things than fictional picture books and chapter books made a big impression. Every week when my class went to the school library I would pick a someone new to read about. The people who made the biggest impression on me were all women. Elizabeth Blackwell, Susan B. Anthony, Helen Keller are a handful that I can remember reading about to this day. Over the years I have read all sorts of books, but I now love humorous memoirs and McCarthy sure fits the bill on that one! I have read a few of, but not all of, her other books. I really enjoyed Belly Laughs as I read it either while pregnant or soon after one of my children was born and I could totally understand where she was coming from.
I grew up Catholic, but I did not go to Catholic school, I attended CCD on Sundays. The nuns who came by to see how we were doing with our lessons always intimidated me a bit, other kids talked about them hitting knuckles with rulers and I think I was always afraid i would get caught not knowing the answer and that would be my punishment. I never actually saw this happen to anyone, but it seemed like it was possible.
McCarthy has such a great knack for taking embarrassing moments from her life and making them funny. Having a poster on her wall of Jesus that she treated like a girl might treat a poster of her favorite actor or singer, thinking that her family had won the McDonald's Monopoly game, and being traumatized by a scary movie all come out as funny and amusing. I envy people who have the ability to make so much funny and humorous and to be able to put a spin on a story that was not at all funny at the time it happened. I thoroughly enjoyed this book so much so that I almost bought another one at the book store last week, but as I have my Kindle fully loaded with books and my shelves are starting to bow, i think it is time to read from my shelves for now before adding to my collection!
Product Details
ISBN-13:

9781401324650

Publisher:

Hyperion

Publication date:

10/2/2012

Pages:

240
Meet the Author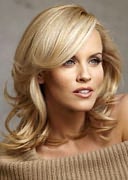 Jenny McCarthy
Jenny McCarthy is the former host of the enormously popular MTV dating show "Singled Out." She has starred in many films, including Dirty Love, the Sundance 2005 film that she also wrote. She is the author of several New York Times bestselling books such as Baby Laughs: The Naked Truth About the First Year of Mommyhood and Louder Than Words: A Motheras Journey Healing Autism. In 2002, McCarthy and her director ex-husband John Asher had their first child, Evan.