Overview from Barnes and Noble:
What was once the western United States is now home to the Republic, a nation perpetually at war with its neighbors. Born into an elite family in one of the Republic's wealthiest districts, fifteen-year-old June is a prodigy being groomed for success in the Republic's highest military circles. Born into the slums, fifteen-year-old Day is the country's most wanted criminal. But his motives may not be as malicious as they seem.
From very different worlds, June and Day have no reason to cross paths - until the day June's brother, Metias, is murdered and Day becomes the prime suspect. Caught in the ultimate game of cat and mouse, Day is in a race for his family's survival, while June seeks to avenge Metias's death. But in a shocking turn of events, the two uncover the truth of what has really brought them together, and the sinister lengths their country will go to keep its secrets.
Full of nonstop action, suspense, and romance, this novel is sure to move readers as much as it thrills.
My thoughts:
I didn't read any overviews of this book before I started reading it. The title kept coming up as a recommended book for me based on my browsing history on Amazon so, when it came up as a Kindle Daily Deal one day, I bought it. I started it as soon as I finished a different book on my Kindle. It read fast and I enjoyed it. I am getting a bit dystopianed out though, so it may be time to take a break from this genre for a little while at least!
June's parents were killed in a car crash leaving her older brother, Metias, as her only family. All ten-year-olds in society take a test to determine their aptitude and the best placement for them in the working of a society that is constantly at war with everyone around them. June is supposedly the only one to every achieve a perfect score, so she has been placed in college early. The possible careers are in the military, as a worker or in the labor fields for those who fail to pass the exam. June is being groomed for government and the military, but she has a bit of a stubborn streak and a penchant for getting into trouble. Her brother keeps her in line but, one night he is killed and the criminal Day is blamed with the crime. June takes an undercover assignment to find Day and bring him in, but the boy she meets on the streets doesn't seem like the cold blooded killer the government is looking for. He is a bit more like a Robin Hood who is living on the streets to protect his family.
June finds a message from her brother that sheds some more light on the facts of society and lends some credibility to what Day has told her of life away from the privileged sectors of society. Together they make some more discoveries that tell a more sinister story of what the society has been doing and what it plans to do.
Product Details
ISBN-13:

9780142422076

Publisher:

Penguin Young Readers Group

Publication date:

1/29/2013

Pages:

336

Sales rank:

95,838

Age range:

12 - 17 Years

Series:

Legend Series , #1
Meet the Author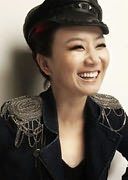 Marie Lu (www.marielu.org) is the author of Legend. She is also art director at Online Alchemy—a video game company—and owns the business and brand FuzzAcademy. Marie lives in Los Angeles, California.