Overview from Barnes and Noble:
High in the Italian Alps at the turn of the twentieth century, Ciro, a strapping mountain boy, meets Enza, a practical beauty. But when scandal rocks Ciro's tiny village, unbeknownst to Enza, he is sent to hide in America. When disaster strikes Enza's family, she, too, is forced to go to America.
Ciro and Enza build fledgling lives—until fate intervenes and reunites them. But it is too late: Ciro has volunteered to serve in World War I and Enza finds success in the costume department of the
Metropolitan Opera
House. Over time, these star-crossed lovers meet and separate, until the power of their love changes both of their lives forever.
Inspired by Trigiani's own
family history
,
The Shoemaker's Wife
defines an era with operatic scope that will live on in the imagina-tions of readers for years to come.
My thoughts:
I listened to this book in it's audio version. I love that Trigiani took the story of how her grandparents met and turned it into a novel. It seems like a great way to keep family history alive and to share what life was like for immigrants in the early part of the twentieth century.
This story covers many years, from when Ciro was around six years old and is dropped off by his mother at a convent until she can come back to the time he is in his thirties and working in America. Ciro and Enza meet on the mountain, again when she arrives in New York, and a number of times after that, but it is never the right time it seems. I found myself wishing that Trigiani had used a different title for the book. Ciro becomes, surprise, surprise, a shoemaker and Enzo works as a seamstress in a number of different capacities from being in a sweatshop to working for an opera. The details made it seem very real, but I found myself waiting for when they would find each other since it seemed unlikely it would be called The Shoemaker's Wife if they were not going to end up together at some point. Even when it seems like they are going to be happy with someone else I found myself wondering what was going to happen to end that happiness. I personally would have liked a bit more suspense, but I did enjoy the book. I have not read Danielle Steel in years, but this book had me remembered the books of hers I read in high school, it is in a similar style.
The book is rich in history from how immigrants crossed the sea, to Ellis Island, to working in mines and on roads, to arranged marriages and apprenticeships, to new traditions and old traditions, to the way workers were treated in sweatshops, to building railroads, and much more. I find I absorb more details about the past when they are embedded in a book that seems real, it all came alive which is quite a feat for an author. So while I would have liked more suspense, I enjoyed the vividness and detail of the writing and came to really like Ciro and Enza.
Product Details
ISBN-13:

9780061257100

Publisher:

HarperCollins Publishers

Publication date:

8/21/2012

Pages:

496
Meet the Author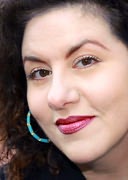 Adriana Trigiani is an award-winning playwright, television writer, and documentary filmmaker. The author of the bestselling Big Stone Gap series, Very Valentine; Brava, Valentine; Lucia, Lucia; The Queen of the Big Time; andRococo, she has also written the best-selling memoir Don't Sing at the Table as well as the young adult novels Viola in Reel Life and Viola in the Spotlight. Her books have been published in 36 countries around the world. She has written and will direct the big screen version of her first novel, Big Stone Gap. She lives in New York City with her husband and daughter.