Overview from Barnes and Noble:
Two sheltered princesses, one wounded warrior; who will live happily ever after?
Princess Margrethe has been hidden away while her kingdom is at war. One gloomy, windswept morning as she stands in a convent garden overlooking the icy sea, she witnesses a miracle: a glittering mermaid emerging from the waves, a nearly drowned man in her arms. By the time Margrethe reaches the shore, the mermaid has disappeared into the sea. As Margrethe nurses the handsome stranger back to health, she learns that not only is he a prince, he is also the son of her father's greatest rival. Sure that the mermaid brought this man to her for a reason, Margrethe devises a plan to bring peace to her kingdom.
Meanwhile, the mermaid princess Lenia longs to return to the human man she carried to safety. She is willing to trade her home, her voice, and even her health for legs and the
chance to win
his heart….
A surprising take on the classic tale, Mermaid is the story of two women with everything to lose. Beautifully written and compulsively readable, it will make you think twice about the fairytale you heard as a child, keeping you in suspense until the very last page.
My thoughts:
I borrowed this as an e-book from the library. I found the pacing of the first half to be a bit slow. It was hard for me to get invested in either Lenia or Margrethe. It was interesting to see how Margrethe construed Lenia's intentions one way when it was actually the exact opposite. Margrethe thinks that the mermaid saved the Prince for her and brought him as a gift, when really Lenia has fallen in love with the prince and can't bear to see him die in the water. I could understand this to a certain extent because Margrethe was a princess on land and was used to having gifts given to her.
Somewhere around the mid point I was hooked and wondered how things were going to play out. The prince could not choose them both so someones heart was going to be broken. Was Lenia going to turn to foam in the ocean or was Margrethe going to be spurned causing war to break out again between the North and the South? I have never read the Hans Christian Anderson version of the tale, I only have Disney's The Little Mermaid to compare it to, but I was satisfied with the ending. Someday I am going to need to read the Anderson version.
Product Details
ISBN-13:

9780307589972

Publisher:

Crown Publishing Group

Publication date:

3/1/2011

Pages:

256
Meet the Author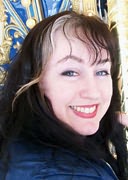 CAROLYN TURGEON is the author of Rain Village and Godmother: The Secret Cinderella Story.