Overview from Barnes and Noble:
In the tradition of
One Simple Act
and
God's Guest List
, perennial bestselling novelist Debbie Macomber reveals in inspiring, moving stories that the simplicity of one perfect word can become profound. When Debbie took the time to intentionally focus on a single word—such as
prayer, trust,
or
surrender
—for a whole year, this act changed not only herself, but those around her.
"The surprising thing is that when we decide to focus on one word for the year," Debbie writes, "God takes part in the choosing. That's why the word is perfect for us. We may not see it at the time, but as we look back we see that it all worked together—our word, our life, our journey."
For example, the year she chose the word
balance,
her
career
moved to a whole new level. The pressures on Debbie to speak, promote, and practically live on the road were overwhelming. It was her yearlong focus on that all-too-difficult word
balance
that helped her refine her schedule. As you read Debbie's and others' stories, you will be inspired to find your own word and will see how one perfect word can make all the difference.
My thoughts:
I got this book for Christmas and read it last month. I love reading Macomber's fiction and I have been impressed with the non-fiction work she has been writing in recent years. She really shares her life and her thoughts and it feels like you are sitting down with her hearing her story. Each chapter in this book reveals one of the words she chose for a year and how that word shaped her year and what she learned about herself through focusing on one word.
Macomber has such dedication to her journaling and her prayer time, rising very early every day to have quiet time to pray before her day starts. I have kept journals on and off for as long as I can remember, starting in elementary school with a journal I bought at the dollar store, but I have never focused on just one word for the year. As I was reading this book I toyed with the idea of doing that for 2013, even though the year had already started, but I decided to work on the habit of writing and the habit of exercise first. Once those habits are there, I can tweak them and add to them.
I put this book back on my shelf to look at again in December to consider the idea of selecting a word for next year. I am impressed by how much Macomber was willing to share about her own life, not the life of her characters, but her own struggles within her marriage, with her eating and with becoming a published writer. It takes a great deal of trust and faith to be able to do that and I respect that she was willing to make herself a real person in the readers eyes so she could share her process with us.
Product Details
ISBN-13:

9781439195291

Publisher:

Howard Books

Publication date:

1/1/2013

Pages:

207
Meet the Author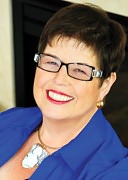 Debbie Macomber is one of today's leading voices in women's fiction. A regular on every major bestseller list with more than 140 million copies of her books in print, Debbie's popularity is worldwide, with her books translated into twenty-three languages. Debbie and her husband, Wayne, are the proud parents of four children and grandparents of eight grandchildren. They live in Washington State and winter in Florida.