Overview from Barnes and Noble:
Caught between trying to live his life and trying to run from it, Charlie is navigating through the strange worlds of love, drugs, "The Rocky Horror Picture Show", and dealing with the loss of a good friend and his favorite aunt.
My thoughts:
The first time I tried to read this book I just couldn't get into it, then last month I picked it up and read it all on and off over the course of a weekend. I think sometimes you can pick up a book at the wrong time for you even though at a different time you may really enjoy it. I wonder if I am the only one who has that reaction or if it is common in readers.
The setting of this book was fun for me because, and I may date myself a bit, it is set during a time when I was in high school. I can actually remember going to see the Rocky Horror Picture Show once. It is so common to see people with cell phones now that it was kind of nice to see kids who use regular phones and are not in constant communication with everyone they know.
Charlie is a bit of a loner, on his first day of high school he has no one to sit with at lunch and no friends. His best friend died at the end of the previous year and he has drifted away from the couple of other people he hung out with because of their shared grief. He spends a lot of time inside of his head. Meeting his new English teacher is good for him as he gets extra assignments to read novels and write about them. Reading about what he was reading made me want to go back and reread To Kill a Mockingbird, Catcher in the Rye and The Great Gatsby, all books I can remember reading in high school. I wonder if they are still on the assigned reading list.
He does manage to make a few friends and find a group to hang out with and starts to come out of his shell, but there is still something lurking inside of him, a grief that he cannot over come. I found the reason for his grief and being inside of himself to be so sad that I actually cried, both during the book and the movie but other people did not seem to have such a strong reaction to it.
I liked the format of the book as well, throughout it Charlie is writing to a friend, someone who does not know him and who we don't know, and telling her all about his life and what is going on. For some reason that format always resonates with me, I love books of letters even though these are all one sided letters. I also wondered how much of the author was in the story as Charlie wants to become a writer and the author is a writer, what did he take from his own lief to write this or is it all a product of his imagination.
Product Details
ISBN-13:

9781451696196

Publisher:

MTV Books

Publication date:

8/14/2012

Edition description:

Reissue; Movie Tie-in Edition

Pages:

224

Age range:

14 - 17 Years
Meet the Author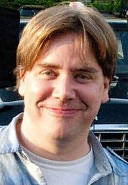 Stephen Chbosky wrote and directed the feature film adaptation of his novel, The Perks of Being a Wallflower. A native of Pittsburgh, Pennsylvania, he graduated from the University of Southern California's Filmic Writing Program. His first film, The Four Corners of Nowhere, premiered at Sundance Film Festival. He wrote the screenplay for the critically acclaimed film adaptation of Rent; and co-created the post-apocalyptic television drama, Jericho. He also edited Pieces, a collection of short stories for Pocket Books.