Overview from Barnes and Noble:
From the author of six New York Times bestselling novels, Emily Giffin, comes the unforgettable story of one powerful secret, its effect on two families, and the life-altering journey that follows…
Marian Caldwell is a thirty-six-year-old television producer living her dream in New York City. With a fulfilling career and picture-perfect relationship, she has convinced everyone, including herself, that her life is just as she wants it to be. But one night, Marian answers a knock on the door . . . only to find Kirby Rose, an eighteen-year-old girl with a key to a past that Marian thought she had locked away forever.
From the moment Kirby appears on her doorstep, Marian's meticulously constructed world will be shaken to its core, resurrecting memories of a passionate young love affair that threaten everything that has come to define her. For the precocious and headstrong Kirby, the encounter will spur a process of discovery that ushers her across the threshold of adulthood, forcing her to reevaluate her family and future in a wise and bittersweet light.
As Marian and Kirby embark on a quest to find the one thing missing in their lives, each will come to recognize that where we belong is often where we least expect to find ourselves. A place that we may have willed ourselves to forget, but that the heart remembers forever.
My thoughts:
This is the second book I have read by Emily Griffin. It was nice to catch up with the two main characters from the last one I read as they are friends of Marian's in this novel. They are only in the book briefly, but it was like running into old friends and finding out that all is going well for them even though you have been out of touch.
The story alternates between Marian's POV and Kirby's, so you can see situations from both of them. Marian made some big decisions in the past, ones she never came to terms with but has buried, that now come to the surface and need to be dealt with. Through coming clean to the people in her life, from her present to her past, she is able to admit some truths about her life now that she didn't want to face.
Kirby has never felt quite whole, but through her journey she is able to able to make sense of things and understand herself better. We all hold onto hurts from the past and are afraid to be honest with ourselves and others at times, but sometimes the energy of hiding and not being true are more exhausting than facing those fears. It is hard to say more without giving away too much, but I enjoyed listening to this book.
Product Details
ISBN-13:

9780312554187

Publisher:

St. Martin's Press

Publication date:

4/16/2013

Edition description:

Reprint

Pages:

384
Meet the Author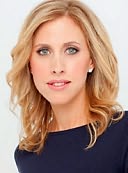 Emily Giffin is a graduate of Wake Forest University and the University of Virginia School of Law. After practicing litigation at a Manhattan firm for several years, she moved to London to write full time. The author of five New York Times bestselling novels, Something Borrowed, Something Blue, Baby Proof, Love the One You're With, and Heart of the Matter, she now lives in Atlanta with her husband and three young children.