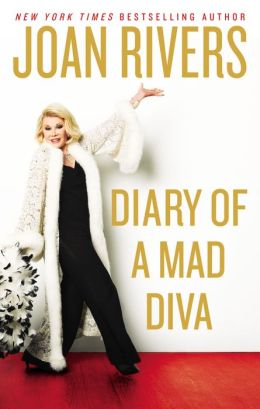 Overview from Barnes and Noble:
Following up the phenomenal success of her headline-making New York Times bestseller I Hate Everyone...Starting With Me, the unstoppable Joan Rivers is at it again. When her daughter Melissa gives her a diary for Christmas, at first Joan is horrified—who the hell does Melissa think she is? That fat pig, Bridget Jones? But as Joan, being both beautiful and introspective, begins to record her day-to-day musings, she realizes she has a lot to say.
About everything. And everyone, God help them.
The result? A no-holds-barred, delightfully vicious and always hilarious look at the everyday life of the ultimate diva. Follow Joan on a family vacation in Mexico and on trips between New York and Los Angeles where she mingles with the stars, never missing a beat as she delivers blistering critiques on current events, and excoriating insights about life, pop culture, and celebrities (from A to D list), all in her relentlessly funny signature style.
This is the Diary of a Mad Diva. Forget about Anais Nin, Anne Frank, and that whiner Sylvia Plath. For the first time in a century, a diary by someone that's actually worth reading.
My thoughts:
I put this on hold at the library before Joan died and had mixed feelings when my turn came up last week. It was a fun, fast read with some funny jokes and some really mean ones, but what was morbid for me was all the jokes she makes about her own death. Yes, she was eighty at the time she wrote this, so she knew she had way more years behind her than ahead of her, but it retrospect some of the things she wrote just seemed a bit tough to read now.
I know a number of stars were hurt or upset by the jokes she told about them, there was even a disclaimer in between June and July about how this book was mostly a work of fiction and humor and should be read in such a manner, but joking that stars are gay or fat didn't always feel like it was made in the pursuit of fun. That said, the book did have me laughing at times especially when she writes about herself and her family and leaves the critique of others alone. Her vacations and chauffeurs and other passengers on planes brought smiles and laughs. It was great that she was able to spin everything into a humorous situation, even not being able to find a man to date or having copious amounts of plastic surgery on a regular basis. Her book reminded me at times of Chelsea Handler's latest book, perhaps because they both spent at lot of time on planes and on vacation in other countries, but also in the way they both use humor in their lives and writing.
Product Details
ISBN-13:

9780425269022

Publisher:

Penguin Group (USA)

Publication date:

7/1/2014

Pages:

304