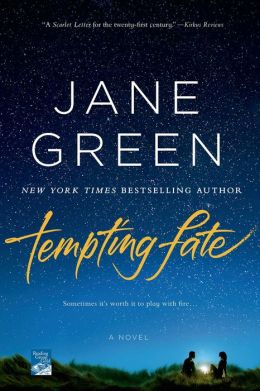 Overview from Barnes and Noble:
From the New York Times bestselling author of such beloved novels as Jemima J, The Beach House, and Another Piece of My Heart comes an enthralling and emotional story about how much we really understand the temptations that can threaten even the most idyllic of relationships….
Gabby and Elliott have been happily married for eighteen years. They have two teenaged daughters. They have built a life together. Forty-three year old Gabby is the last person to have an affair. She can't relate to the way her friends desperately try to cling to the beauty and allure of their younger years…And yet she too knows her youth is quickly slipping away. She could never imagine how good it would feel to have a handsome younger man show interest in her—until the night it happens. Matt makes Gabby feel sparkling, fascinating, alive—something she hasn't felt in years. What begins as a long-distance friendship soon develops into an emotional affair as Gabby discovers her limits and boundaries are not where she expects them to be. Intoxicated, she has no choice but to step ever deeper into the allure of attraction and attention, never foreseeing the life-changing consequences that lie ahead. If she makes one wrong move she could lose everything—and find out what really matters most.
A heartfelt and complex story, Tempting Fate will have readers gripped until they reach the very last page and have them thinking about the characters long after they put the book down.
My thoughts:
Aging is such a complex thing, we might think we feel one way until it comes time to test that theory out in person. Gabby is comfortable and loves her husband, but the way some of her friends act and look make her feel old and frumpy. on a Girls Night Out evening she meets a charming, younger man who shows an interest in her in a friendly way. They exchange numbers casually and she thinks there is no way someone this successful is going to get in touch with her, but her does. They are friendly and casual, acting as friends and her is aware that she is married, but she looks forward to his emails and texts just a little too much. She starts to take better care of herself, buying new clothes and coloring her hair. But they are just friends, he is just a friend she hasn't mentioned to her husband, but still just a friend.
Marriage is a complex thing, and it takes two really communicating to make it work. Gabby always wanted a third child, but Elliot did not and when he makes a decision to have a vasectomy resentment starts to grow inside of Gabby. More about the fact that he never even took the time to discuss it with her to see her side than from the fact that he went through with it, she had a dream of another baby and feels he took it away from her with very little thought. So she feel flattered than someone ten years younger than she is finds her attractive and wants to spend time with her.
Friendship too has multiple layers. Can you be friends with both sides of a couple when they split up or do you have to choose sides? Can you support a decision that is not the one you would have made? How do you continue to co-parent with someone you no longer cohabitate with? How does separating affect the children and how much acting out is normal?
This story plays out in some expected ways and in some unexpected ones, but it shows that family does not always have to be related by blood and even sometimes the closest friend can fail us in a time of need, but we have to be open to the idea that there is a plan for us and everything will work out in the end, with some detours and roundabouts along the way.
Product Details
ISBN-13:

9780312604189

Publisher:

St. Martin's Press

Publication date:

11/4/2014

Pages:

384