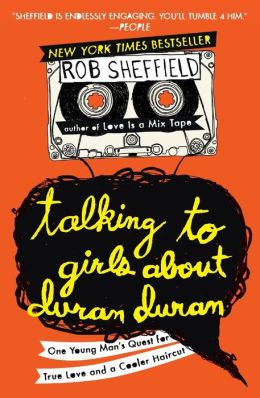 Overview from Barnes and Noble:
From the bestselling author of Love Is a Mix Tape and Turn Around Bright Eyes, "a funny, insightful look at the sublime torture of adolescence".—Entertainment Weekly
The 1980s meant MTV and John Hughes movies, big dreams and bigger shoulder pads, and millions of teen girls who nursed crushes on the members of Duran Duran. As a solitary teenager stranded in the suburbs, Rob Sheffield had a lot to learn about women, love, music, and himself. And he was sure his radio had all the answers.
As evidenced by the bestselling sales of Sheffield's first book, Love Is a Mix Tape, the connection between music and memory strikes a chord with readers. Talking to Girls About Duran Duran strikes that chord all over again, and is a pitch-perfect trip through '80s music-from Bowie to Bobby Brown, from hair metal to hip-hop. But this book is not just about music. It's about growing up and how every song is a snapshot of a moment that you'll remember the rest of your life.
My thoughts:
While I do not have quite as much from the 1980s to remember, I can recall the songs and some of the fascination with MTV from that time. I love how each of Sheffield's essays start with a song title from the time and bring up. It was like sitting down with a funny friend who knows a whole lot more about music than I do and finding out all sorts of music history while remembering what it was like before cell phones became so rampant.
Why Irish sisters act as they do, what it is like to be the only boy in a family of all girls, and how he came to love Duran Duran as more than a way to talk to girls who loved the group. I did not have MTV growing up, my friend did, but I did not. I was always a bit jealous about it. Now I do have MTV but it no longer shows mostly music videos so I don't bother with it, how ironic. I had to laugh when he described some of the videos that make no sense, like when the band is singing in a junk yard for no apparent reason.
Each song he used as a chapter title reminded me of moments in my own life, either from the eighties or from later on when I became aware of the song. It was like a trip down memory lane with my own memories wound up with those of a good friend.
Product Details
ISBN-13:

9780452297234

Publisher:

Penguin Group (USA) Incorporated

Publication date:

4/26/2011
Pages: 288