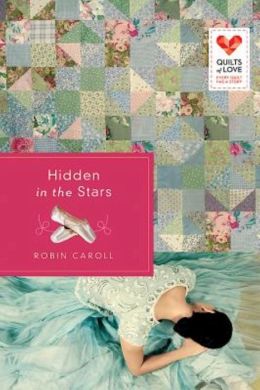 Overview
Following an attack that killed her mother and stole her ability to speak, 21-year-old Sophia Montgomery has no choice but to accept her estranged grandmother's offer to return to their family home. Although detective Julian Frazier is working hard on the case, Sophia unknowingly frustrates him because her inability to speak thwarts her eyewitness evidence. The fact that Julian is undeniably attracted to Sophia doesn't help either, so Julian hides his feelings as concern for a trauma victim and focuses instead on finding the killer.
Little do they know, the clues to solving the case may be right in front of them, displayed in Sophia's mother's "special" quilt design. Who will realize the secret Sophia's unwittingly been hiding in plain sight? When the truth comes to light, will Sophia find her voice again? Or will the murderer—still at large—silence her forever?
Landing page:
My thoughts:
In one night, on the eve of the fruition of years of hard work and sacrifice, everything changes for Sophia. A violent attack that leaves her mother dead and her temporarily unable to talk, lands her in the hospital giving a statement through a lip reader to a police detective.
A grandmother she thought to be dead, ties to Russian mafia, parallels between a mothers training in dance and a daughters years of training in gymnastics, leave Sophia vulnerable to attack from the same men who hurt her, but whom police are having a hard time tracking down.
What is hiding in the quilt? What is the stain her mother always said was cola? Why has she never met the grandmother who clearly is not dead? As they circle closer to the answer the danger ratchets up for Sophia and Julian wants more and more to keep her safe, but doesn't know what to do with the romantic feelings he can't seem to stop.
As each of the questions is answered and leads to even more questions, the picture of Sophia's mother Nina's life emerges. Why she stopped dancing professionally? What really happened to her best friend? Sophia never wavers in her trust of God's plan for her life and her path, but Julian has a lot of doubts. He has been hurt and has lost his faith, can Sophia and her silent acceptance help him find his way back?
Product Details
ISBN-13:

9781426773600

Publisher:

Abingdon Press

Publication date:

9/16/2014
Pages: 240
About the Author:
Robin Caroll is the author of 22 published novels. When she isn't writing, Robin spends time with her husband of 20-plus years, her three beautiful daughters and two handsome grandsons, and their character-filled pets at home in Little Rock, Arkansas. She gives back to the writing community by serving as conference director for ACFW. Her books have been named finalists in such contests as the Carol Award, HOLT Medallion, Daphne du Maurier, RT Reviewer's Choice Award, Bookseller's Best, and Book of the Year.
About Quilts of Love:

Quilts tell stories of love and loss, hope and faith, tradition and new beginnings. The

Quilts of Love series

focuses on the women who quilted all of these things into their family histories. A new book releases each month and features contemporary and historical romances as well as women's fiction and the occasional light mystery. You will be drawn into the endearing characters of this series and be touched by their stories.