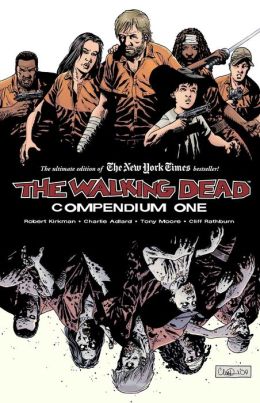 Overview from Barnes and Noble:
Introducing the first eight volumes of the fan-favorite, New York Times Best Seller series collected into one massive paperback collection! Collects The Walking Dead #1-48. This is the perfect collection for any fan of the Emmy Award-winning television series on AMC: over one thousand pages chronicling the beginning of Robert Kirkman's Eisner Award-winning continuing story of survival horror- from Rick Grimes' waking up alone in a hospital, to him and his family seeking solace on Hershel's farm, and the controversial introduction of Woodbury despot: The Governor. In a world ruled by the dead, we are finally forced to finally start living.
My thoughts:
While I liked having so much of the story in on volume, this was so heavy to hold. I had to take breaks from reading in bed because it would put my hands to sleep! It made me feel like a bit of a wimp.
I am current with the TV series, so it was interesting to see which storylines and characters stayed the same as the book and which ones were changed or missing from the show. Which relationships happened and which ones never actually happened and if it happened in the same order as the book.
The kids were so much younger than the show, but I know they started out younger, the years of production have had to make accommodations for them getting older. it still seems like there are things they could be doing better to survive a bit easier and I found myself getting frustrated with them at times and they actually do call the walking dead zombies which they never do in the show.
I think I am going to hold off on reading the next compendium because I would like to be surprised by what happens in the show, not anticipating the next move from having read the books.
Product Details
ISBN-13:

9781607060765

Publisher:

Image Comics

Publication date:

5/6/2009

Series:

Walking Dead Series

Pages:

1088
Meet the Author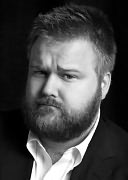 Robert Kirkman
ROBERT KIRKMAN is best known for his work on The Walking Dead and Invincible for Image Comics and SKYBOUND. He is one of the five partners of Image Comics and is an executive producer and writer on AMC's critically acclaimed television series The Walking Dead.