Overview from Barnes and Noble:
Reissued in a way-cool paperback design
Judy Moody did not set out to save the world.
She set out to win a contest. A Band-Aid contest.
It all started with the Crazy-Strip contest - and the dream that she, Judy Moody, might one day see her very own adhesive-bandage design covering the scraped knees of thousands. But when her "Heal the World" motif merits only an honorable mention, Judy Moody realizes it's time to set her sights on something bigger. Class 3T is studying the environment, and Judy is amazed to learn about the destruction of the rain forest, the endangered species (not) in her own backyard, and her own family's crummy recycling habits. Now she's in a mood to whip the planet into shape - or her name isn't Judy Monarch Moody!
When Judy Moody gets serious about protecting the environment, her little brother Stink thinks she is overdoing it, but she manages to inspire her third grade class to undertake an award-winning, environment-saving project.
My thoughts:
It was nice to see characters thinking about doing better for the environment, even if Judy went about some of her schemes in rather odd ways. Insisting that her mother stop using lipstick and her father stop drinking coffee and her classmates stop using pencils with wood from the rain forest. But it was a good issue to bring up with children about how little things we do can make a difference farther reaching their our own homes and communities and it made my children laugh along the way. All very worthwhile.
Product Details
ISBN-13:

9780763648596

Publisher:

Candlewick Press

Publication date:

1/26/2010

Pages:

160

Sales rank:

42,835

Age range:

6 - 10 Years

Series:

Judy Moody Series , #3
Meet the Author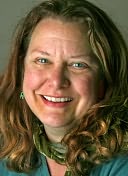 Megan McDonald
Megan McDonald is the creator of the popular and award-winning Judy Moody and Stink series. She is also the author of two Sisters Club stories and many other books for children. She lives in Sebastopol, California.
Peter H. Reynolds is the illustrator of the Judy Moody and Stink books and the author-illustrator of THE DOT, ISH, SO FEW OF ME, THE NORTH STAR, and ROSE'S GARDEN. He lives in Dedham, Massachusetts.