Overview from Barnes and Noble:
The dynamite blockbuster that started it all—now a major motion picture starring Katherine Heigl as Stephanie Plum!
ONE FINE MESS
Welcome to Trenton, New Jersey, home to wiseguys, average Joes, and Stephanie Plum, who sports a big attitude and even bigger money problems (since losing her job as a lingerie buyer for a department store). Stephanie needs cash—fast—but times are tough, and soon she's forced to turn to the last resort of the truly desperate: family...
ONE FALSE MOVE
Stephanie lands a gig at her sleazy cousin Vinnie's bail bonding company. She's got no experience. But that doesn't matter. Neither does the fact that the bail jumper in question is local vice cop Joe Morelli. From the time he first looked up her dress to the time he first got into her pants, to the time Steph hit him with her father's Buick, M-o-r-e-l-l-i has spelled t-r-o-u-b-l-e. And now the hot guy is in hot water—wanted for murder...
ONE FOR THE MONEY
Abject poverty is a great motivator for learning new skills, but being trained in the school of hard knocks by people like psycho prizefighter Benito Ramirez isn't. Still, if Stephanie can nab Morelli in a week, she'll make a cool ten grand. All she has to do is become an expert bounty hunter overnight—and keep herself from getting killed before she gets her man...
My thoughts:
I read this book years ago and have worked my way through all the current numbers. I always enjoy spending time with Stephanie Plum and her brand of wackiness. her ineptitude fro actually catching her skips, her attraction to two different men, her penchant for having cars in her possession explode. When I read Explosive Eighteen this summer, the series was starting to feel a little tired to me. I want Stephanie to choose between Morelli and Ranger, how long are both men going to be willing to hang around while she jumps in between? With this in mind I decided to go back to the beginning to see what it was like in book one. I also have a rule for my children that I decided to keep for myself that, if I wanted to see the movie, I needed to read the book again. Yes, I had already read it and when I read the book too close to the movie I tend to not like the movie as much, but I wanted to read it as it was before seeing the film version. I guess now it is time to go out and rent it so I can see how it holds up to the book.
Stephanie is down on her luck, she has been pawning any item of value she has to have enough money to keep moving forward. She no longer has a TV or much in the way of furniture. Her refrigerater rarely holds any food. She lost her job as a lingerie buyer months ago and has been looking for something else to do. When she hears that her cousin Vinny, the bail bondsman, has a filing job she goes to inquire. Turns out the job has been filled, but if she can bring in Joe Morelli, neighborhood bad boy turned cop, she can get $10,000. Of course, Stephanie has no idea what she is doing. Even with help from Ranger, a real bond enforcer, and tips from other cops, she seems to always be chasing her tail in circles.
With a crazy boxer threatening her, missing witnesses, drugs going crazy in Trenton and more Stephanie ends up working with Morelli to get everything sorted out. I have to say I liked this first story better than the most recent one. It was still unbelievable at times, but the characters seemed more real in their skin and the love triangle and jealousy has not even begun. I don't know if I will continue rereading the series or not, but I enjoyed this reread.
Product Details
ISBN-13:

9780312600730

Publisher:

St. Martin's Press

Publication date:

11/22/2011

Edition description:

Movie Tie-In

Pages:

352

Series:

Stephanie Plum Series, #1
Meet the Author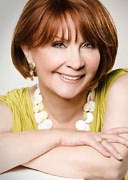 Janet Evanovich
Janet Evanovich is the author of the Stephanie Plum books, including Two for the Dough and Sizzling Sixteen, and the Diesel & Tucker series, including Wicked Appetite. Janet studied painting at Douglass College, but that art form never quite fit, and she soon moved on to writing stories. She didn't have instant success: she collected a big box of rejection letters. As she puts it, "When the box was full I burned the whole damn thing, crammed myself into pantyhose and went to work for a temp agency." But after a few months of secretarial work, she managed to sell her first novel for $2,000. She immediately quit her job and started working full-time as a writer. After 12 romance novels, she switched to mystery, and created Stephanie Plum. The rest is history. Janet's favorite exercise is shopping, and her drug of choice is Cheeze Doodles. She and her husband live in New Hampshire, in house with a view of the Connecticut River Valley.