Overview from Barnes and Noble:
Twelve-year-old Meggie learns that her father, who repairs and binds books for a living, can "read" fictional characters to life when one of those characters abducts them and tries to force him into service.
My thoughts:
The Rave movie theater by us does free movies for kids during the summer for a ten week period. This year one of the free movies is
Inkheart
. When I saw the audio book at the library I decided it would fit well with our regular "rule" that you need to read a book before seeing the movie. This was a rather long audio book and took us a few weeks to listen to in the car. I saw the movie years ago and have to say that I think they must have made quite a few changes from the page to the screen, but maybe my memory is faulty. It will be interesting to watch it again having read the book to see how it kept true to the author and how it was changed.
I had no idea that the book was translated into English from German. Sometimes translated stories can seem less descriptive to me, but this one retained its descriptiveness and does not seem to have suffered from being translated.
Vanessa Redgrave was the narrator for this book and, while I usually enjoy her acting, I did not like how she voiced some of the characters. Lately I have been more critical of audio book readers as I have been listening to so many of them. The reader can really make or break a book depending on how he or she reads it and the tone that is used for each character.
Meggie's father Mo can make characters and things come out of books when he reads aloud. Nine years ago he was reading a book when three men came out of it and his wife and two cats disappeared into it. Since then he has done his best not to read aloud. Whenever someone or something comes out, someone or something from this world has to go into the book to take the vacated place. Meggie thinks her mother ran away to find adventure and has been happy with Mo and their books. She travels with him when he goes to repair old books until one day someone new shows up, Dustfinger who came out of the book Inkheart. He wants desperately to be read back into the book and does whatever he can to make it so that Mo, or Silvertongue as he calls him, has to read the book out loud. What follows is a story of kidnapping, mystery, suspense and intrigue. I wondered at time if it might be too dark for my children, but they did fine with it. We'll have to see how it holds up for them when we see the movie next month.
Product Details
ISBN-13:

9780439709101

Publisher:

Scholastic, Inc.

Publication date:

6/1/2005

Edition description:

Reprint

Pages:

560

Age range:

9 - 12 Years
Meet the Author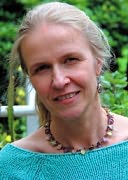 CORNELIA FUNKE is Germany's bestselling children's author after J. K. Rowling and R. L. Stine. In the fall of 2002, she made her brilliant debut in the English-language market with the release of The Thief Lord, the fantastical New York Times bestseller which Kirkus called "One spellbinding story." Ms. Funke lives in Hamburg, Germany with her family.