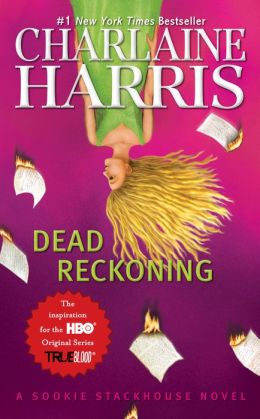 Overview from Barnes and Noble:
With her knack for being in trouble's way, Sookie witnesses the firebombing of Merlotte's, the bar where she works. Since Sam Merlotte is now known to be two-natured, suspicion falls immediately on the anti-shifters in the area. Sookie suspects otherwise, but her attention is divided when she realizes that her lover, Eric Northman, and his "child" Pam are plotting to kill the vampire who is now their master. Gradually, Sookie is drawn into the plot-which is much more complicated than she knows...
My thoughts:
My second book of the year is another Sookie Stackhouse novel. I am working towards my goal of finishing the series and finding out what happens to wrap things up in this small town! The firebombing of Merlotte's sets off the grim circumstances our characters are finding themselves in. Business has already been bad at the bar due to the opening of a new restaurant nearby along with t eh protesters from a church who have been coming out against the two natured members of society. Fangtasia, Eric's club, is also feeling a decline in patronage due to the opening of a Vampire club in the area as well.
Firebombing, well meaning friends, jealousy in the nearby Were pack, complicated blood bonds and new and old enemies pop into play. Sookie really wonders how much of the love she feels for Eric is real and how much has to do with them being bonded by blood. She also knows he is keeping something from her, something Pam wants him to share, but he is unwilling to let her in making her feel less like his Vampire wife than he would like.
In cleaning out her attic, with the help of her fairy "cousin" and great uncle, Sookie discovers something her grandmother left for her that sheds a light on the past and opens up some new questions. I think it gives Sookie a bit of closure on how her grandmother could have been unfaithful to her husband with a fae to begin with and helps her to see her grandmother as the loving, yet flawed person, she was prior to her death.
I'm not sure anyone is going to be the same after the way things go down in this book. Relationships that seem strong and promising are dealt some blows, and some of the more questionable ones may not last. Again, I know Harris must be building up to something, but I am still not sure where this will all lead.
Product Details