Overview from Barnes and Noble:
The thrilling conclusion to #1 bestselling Shiver trilogy from Maggie Stiefvater
In Maggie Stiefvater's SHIVER, Grace and Sam found each other. In LINGER, they fought to be together. Now, in FOREVER, the stakes are even higher than before. Wolves are being hunted. Lives are being threatened. And love is harder and harder to hold on to as death comes closing in.
My thoughts:
As soon as I finished Linger I couldn't wait to read Forever to find out how everything was going to work out. The book alternates between Sam, Grace, Isabella and Cole's voices and points of view. Same is struggling with the wait for Grace to be human again and is suspected of having something to do with her disappearance, either by force or by her choice. Isabella is attracted to Cole, but doesn't want to be and has trouble getting past her brother, Jack's, death as a wolf when the meningitis hypothesis ended up killing instead of curing him. Cole is upset that he can't seem to stay a wolf, while Victor can't seem to stay human. And Grace finds the companionship she always felt was there with the wolves, as well as the danger of the one, very unstable member of the pack.
When a naked girl is found dead near Beck's house things get pushed to a breaking point and Isabella's father manages to use his connections to get an order to have the wolves killed to protect the townspeople. What is this group of four going to do to save themselves and the other wolves, some of whom no longer change and most of whom will not be able to change in time to save themselves from the helicopter and gunmen?
Using Beck's diaries and journals and Cole's scientific discoveries, they devise a plan, but it has as many chances to fail as the meningitis cure did and even more people and wolves are at risk.
As people encroach more and more on land that was formerly the territory of wild animals we are going to continue to have situations like this, where animals who are acting on their instincts, seem to put people in danger. Is there a safe plan? Can they be relocated? Is it right to shoot them? Where do we draw the line?
Meet the Author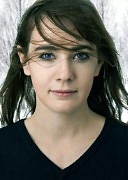 Maggie Stiefvater is the #1 New York Times bestselling author of the novels Shiver, Linger, and Forever. She is also the author of Lament: The Faerie Queen's Deception and Ballad: A Gathering of Faerie. She lives in Virginia with her husband and their two children. You can visit her online at maggiestiefvater.com.