Overview from Barnes and Noble:
In all the years she has watched the wolves in the woods behind her house, Grace has been particularly drawn to an unusual yellow-eyed wolf who, in his turn, has been watching her with increasing intensity.
My thoughts:
I got this book from paperbackswap.com quite some time ago, but it just kept sitting on my book shelf. I decided to try the library audio version instead. I knew I wanted to read it, but for some reason I was never picking it up. I listened to it a couple weeks ago and really enjoyed it. I liked the world that Stiefvater created, with people who turn into wolves when it is cold, but get to spend the summer as themselves again. Grace has been obsessed with the wolves since she was attacked and bitten as a child, but somehow that experience has not made her scared of the woods or the wolves. She and her friend Olivia share this passion, with Olivia using photography to watch and document the pack that is present in the winter, but missing in the summer.
A boy in Grace and Olivia's class is attacked and killed by the wolves, making the people of Mercy Falls go on a rampage to hunt and kill the wolves even though they are protected by Minnesota laws. Grace tried to protect the wolves by telling the hunters that Olivia is in the woods taking pictures. When she returns home she finds a naked boy who has been shot in the neck on her back porch. Sam isn't sure at first how he ended up there, by Grace has an idea and is intrigued by his striking yellow eyes.
So begins the relationship of two teens who have a big secret to hide from the world who also have to deal with the time constraints placed upon them by these special circumstances. Grace finds out more about "her" wolf and more about how she managed to survive her attack, although they are baffled as to why she never went through the change herself since she was bitten.
Grace's parents bothered me. They were so wrapped up in their own lives that they spent very little time with her or in their home. Imagine being alone all the time as a teenager. It made me wonder if part of her obsession with the wolves was to feel like she had a family or because she was jealous of the closeness of the pack and how they looked out for each other, something that was lacking for her in her own family. It will be interesting to see how some of the developments at the end of this book play out in the next two.
Product Details
Meet the Author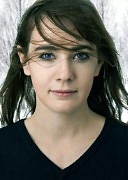 Maggie Stiefvater is the #1 New York Times bestselling author of the novels Shiver, Linger, Forever, and The Scorpio Races. She is also the author of Lament: The Faerie Queen's Deception and Ballad: A Gathering of Faerie. She lives in Virginia with her husband and their two children. You can visit her online at www.maggiestiefvater.com.